8 Roof Maintenance Tips: To Save You Time & Money
Written by : Secured Roofing & Solar
6 minutes read
Failing to maintain your roof will cost your time and money in the long run!
Many homeowners don't realize that your roof needs more maintenance than just cleaning out the gutters. Taking good care of your roof can help it reach its intended lifespan and beyond. You can DIY many things to ensure your roof is in tip-top shape for years to come. Minor repairs can save you in the long run by preventing having to get a much more expensive roof replacement sooner than later. Here are some roof maintenance tips to ensure your home's biggest investment is taken care of.
8 Valuable Roof Maintenance Tips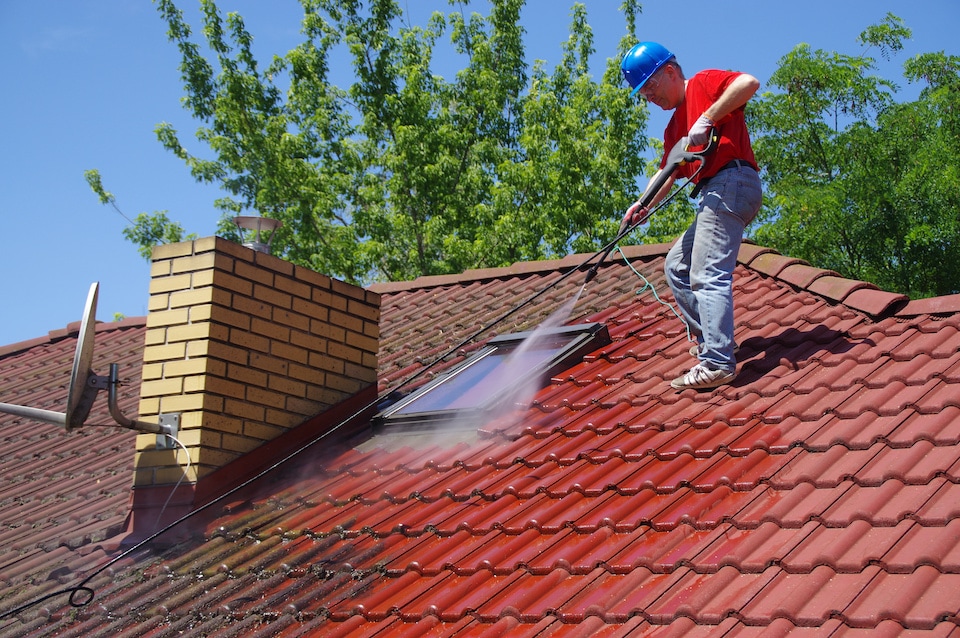 Wash Your Roof
Your roof can get quite dirty over time, and this can be shown by dark streaks that seem to drip down from the peak down the shingles. This discoloration is a sign of algae growth. Damp shingles after heavy rains can lead to algae and mold growth on your shingles. To remedy this, you can wash your roof with a soft-wash mixture that includes gentle soaps that both rinse the roof off and cleans, and prevents future algae growth. Do not pressure wash your roof, as this can spray water up under your shingles or soffits, causing even worse water damage and mold growth.
Do a Visual Inspection of the Roof
Whenever you do spring cleaning and get your home's landscaping in shape after the winter months can be the perfect time to do an annual visual inspection of your roof. If you can see your roof from the ground, you should be able to take a glance and look for obvious signs of wear and tear or damage. Loose shingles, cracked shingles, dark spots (a sign of hail damage), and failing flashing can be seen without getting up on the roof to look. You should be able to see pretty quickly whether or not your roof shingles are in good shape and everything is in order. If you notice anything suspicious, give your local roofer a call to get an inspection.
Get Professional Roof Inspections
To expand on calling a professional, if you ever notice damage to your roof that you believe is needing immediate repair, call a pro roofer right away. Even small damage like one cracked shingle can lead to water damage and model growth in your attic. The longer you put off repairs, the worse damage can get. So if you really want to ensure your roof stays in good condition, regular inspections every 3-5 years can be essential to maintaining your roof.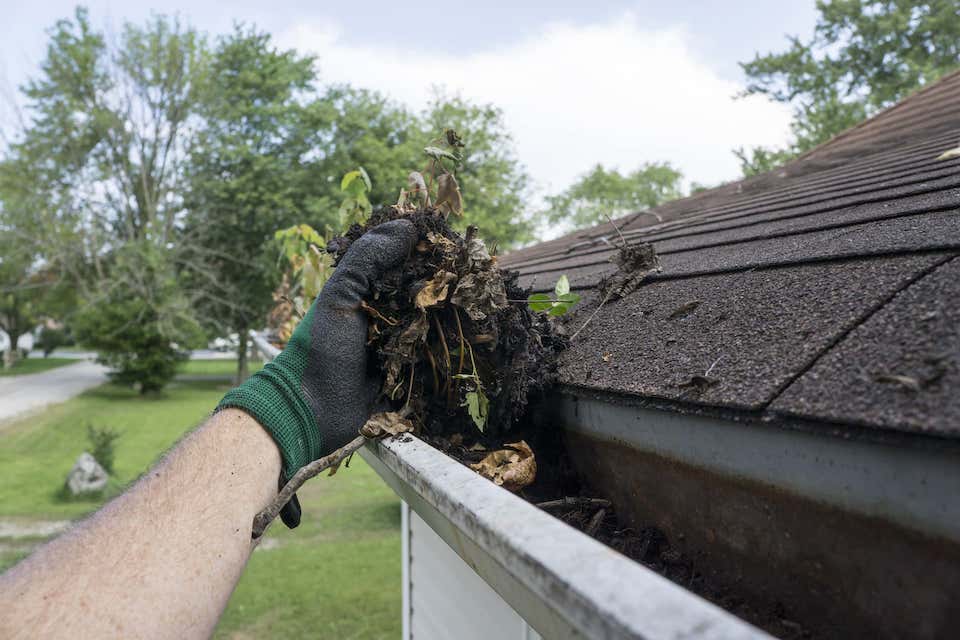 Clean Out the Gutters
Your gutters are critical to ensuring your roof stays clean, dry, and free of debris. Your gutters and downspouts are part of the entire system that keeps your home nice and insulated, and safe from the elements. Clogged gutters mean no rainwater is running off. This can result in sitting water or ice dams that seep in under your shingles and into the attic. The damage this can cause can be astronomical and lead to very costly repairs or even a full roof replacement. So clean out those gutters! And investing in gutter guards can be a huge help in keeping your gutters free of debris.
Trim Overhanging Trees
If you find yourself having issues with clogged gutters, try trimming the large trees near your home. Even if a tree doesn't hang exactly over your home, the leaves and seeds from that tree continue to blow onto your roof and clog your gutters.
Plus, long branches can be a massive risk for high winds and intense storms. If they break off, they can immediately damage your roof to the point of needing a full replacement. Trimming trees is much more affordable than having to repair a broken roof from that large branch falling. Plus, less debris equals less gutter cleaning, and we can all agree to that.
Check for Leaks in the Attic
If you can easily access your attic, that can be a great place to check for leaks without having to get up on the roof. Your attic can quickly reveal any signs of leaks and water damage. Look for discoloration or dark spots on the attic floor. Insulation can also look deflated, wet, or even moldy if it's been getting dripped on from a roof leak. You may even be able to smell a musty scent that can indicate a lot of moisture has been sitting up in your attic.
It's key to note that a musty, moisture-riddled attic can also mean your roof is just poorly ventilated, and moisture cannot escape. This can also lead to water damage and costly repairs, so ensuring your roof and attic are well-ventilated is imperative to this prevention.
Ensure Proper Insulation & Ventilation
Your roof is intended to keep your home safe from the elements but also regulate its temperature. A roof that is properly insulated and ventilated will ensure your home stays warm in the winter and cool in the summer. Heat can escape through your roof if it is poorly installed or damaged. And if roof vents are clogged or cracked, their ventilation can be very poor, leading to that moisture collection and heat/cool escape when you need it most.
Adding or replacing vents for more effective ventilation is always a good consideration if you are experiencing high levels of moisture in your attic. Another consideration would be adding insulation which can help solve this. If you are unsure of the levels of moisture of your attic, an annual inspection will catch any poor insulation, cracked vents, or damaged flashing up on the roof.
Patch Your Chimney
If you have one, your chimney is one of the most susceptible to leaks and heat escape in your home. Plus, any cracked mortar or loose bricks on the outside of your home can actually fall and end up damaging your shingles. Not to mention, the flashing surrounding your chimney to keep it leak-proof can crack easily, and that water can seep down the sides right into your attic or interior walls. If you notice any missing bricks, cracked mortar, or even a lop-sided chimney, call a professional immediately.
Keeping Up with Roof Maintenance
Homeowners can follow these tips to make sure their roof is well-maintained and can last a long time. It's vital to do these regular checks so you can avoid replacing your roof early. Of course, we don't expect you to always be responsible for keeping your roof in perfect condition, but that's where we come in. From roof repair to roof inspections, Secured Roofing & Restoration is here for all of your roofing needs. So give us a call today, and we can inspect your roof to ensure it's doing its job.